Christmas and Holiday Gifts
Christmas time is always a busy time of the year for everyone. So this year let Cookie Advantage help you let someone know that you care with a Christmas gift of from scratch gourmet chocolate chip cookies in a beautiful canister.

We make it easy to send your Christmas gift of gourmet chocolate chip cookies. Just select your favorite holiday canister, tell us who to send it to, and you are done! We do all of the rest of the work. We have a wide selection of tins for your Christmas gift. We bake and ship the cookies the same day by Priority Mail so they will arrive fresh!

Our holiday gift canisters are great as a gift for business associates, valued customers, friends or family. Christmas is a great time to let those around you know that you appreciate them! There are 3 different sizes available from 1 to 3 dozen. So weather you are sending your holiday gifts to a family or large office we have the right size available.

Select the :Single Orders" tab above to see our selection of Christmas tins.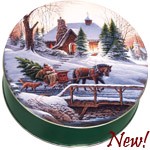 Login or Learn More